How To Use Relax
This website is designed to help you adapt Relax! techniques to your life style and beat stress.

You can use the following options throughout the website…
Learn From Your Peers
This icon will take you to a story of how teens like you use the Relax! techniques in their routine life.
The Technique
This icon will show you step-wise instructions to use a particular Relax! technique.
Apply to your own Situation
This icon will let you personalize the relax techniques to your own situation.
Ten Steps towards Relax!ation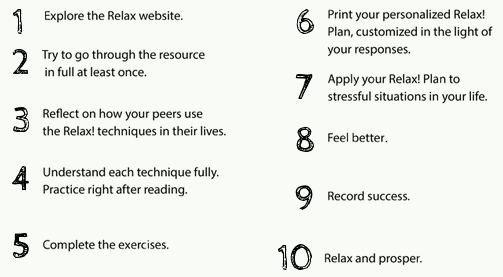 ALL information you enter will be recorded and emailed to you at the end of the program.

Any information that you enter on this site is for your own use only.

Your personally identifiable information will not be accessed by any party

If you do not want to fill out information at anytime during the game, just type in N/A.

If you are ready to start your journey go to PLAY!